Old Mill Hill Society Events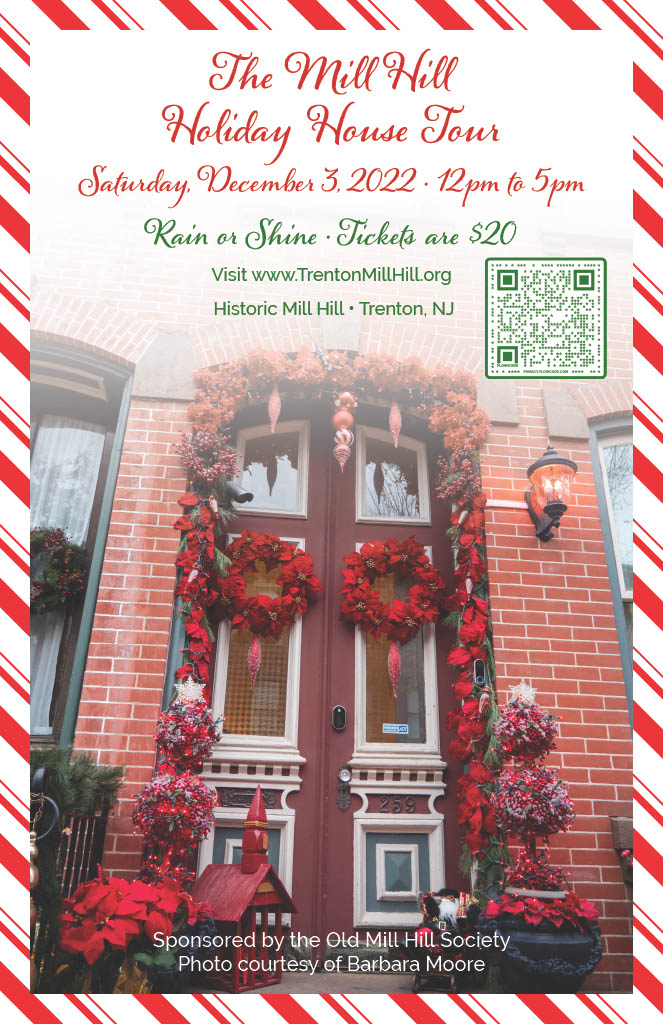 Mill Hill Holiday House Tour Dec. 3 Revives Trenton Tradition
Mill Hill Holiday House Tour 2022 will be Saturday, December 3, 2022, from 12:00 p.m. to 5:00
p.m. Tickets are $20 and will be available on the day of at Artworks, 19 Everett Alley, with
ample parking within easy walking distance of Mill Hill.
The House Tour started more than 55 years ago, is Mill Hill's signature event and a Trenton
holiday staple. Approximately 20 homes in the neighborhood will display special decorations, along with seasonal music, refreshments, and cheerful conversation on stoops and sidewalks.
This year's tour will feature both indoor décor and outdoor entertaining, depending on the
host's preference. Owners of historic homes will welcome guests to view beautiful decorations,
relax, mingle, and enjoy refreshments. The tour goes on, rain or shine.
With a variety of home architectural styles, sizes, and ages, Mill Hill's nineteenth century
streetscape is one of the most interesting between New York and Philadelphia.
The tour is organized by the Old Mill Hill Society and residents of Mill Hill. Tour proceeds help
finance grants to assist Mill Hill home and business owners with maintaining the national
historic landmark standards protecting the area's unique and influential architecture.
Photo courtesy of Barbara
Moore.
Tickets are available online for the top of every hour, or purchase tickets day-of at Artworks. Children under 12 can attend for free. Please respect any masking preferences indicated by signage at each entrance at the owner's discretion. Children under 12 can attend for free.
Click here to purchase tickets!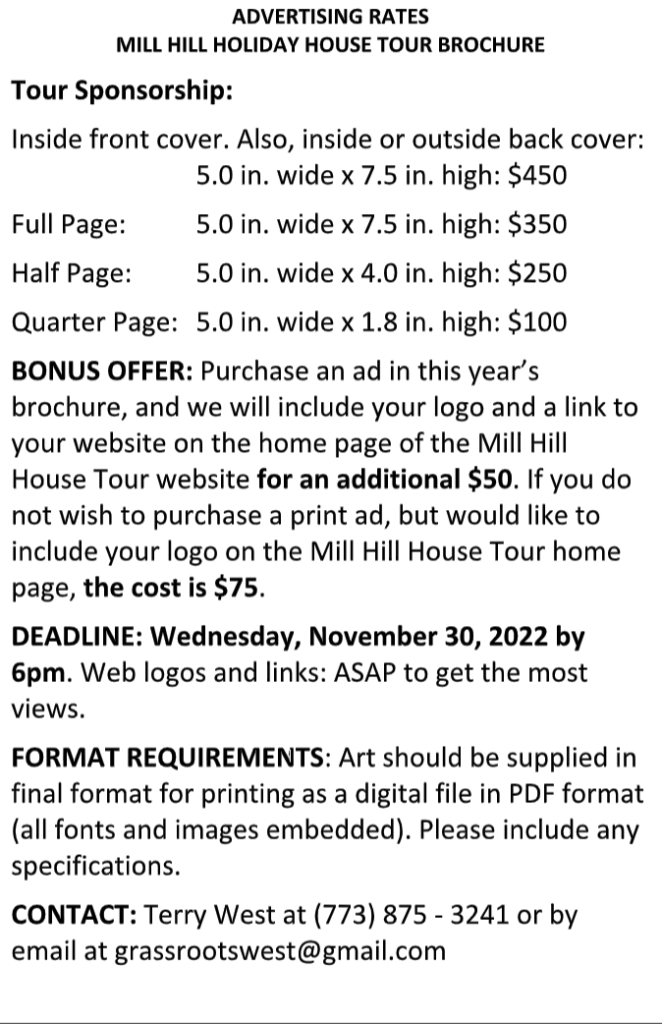 See you on the tour.
The tour begins at Artworks located at 19 Everett Alley and South Stockton Street, Trenton. Free parking is available in the Artworks lot at the beginning of the tour.
Artworks is located at 19 Everett Alley Trenton, NJ 08611
Visit the Artworks Website for directions.
**************************
The tour is run and organized by the Old Mill Hill Society and the residents of Mill Hill. It has played an important role in the historic restoration of the neighborhood. Money raised by the tour funds preservation grants that assist homeowners in maintaining the Trenton Landmarks Commission for Historic Preservation Standards that have helped make the neighborhood what it is today.
Transit:
You don't have to drive to Mill Hill. Public transport is easily accessible. The Trenton Train Station is only a short walk away as is the River Line, which runs south toward Camden along the Delaware River. Several bus routes have stops close to the neighborhood.

The OMHS acknowledges the support of the City of Trenton, Department of Recreation, Natural Resources and Culture, and the Division of Culture.