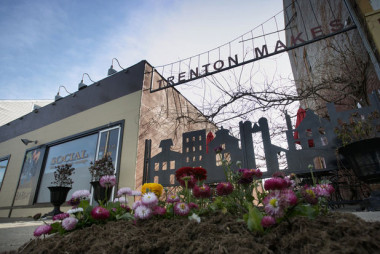 The Trenton area has a vibrant restaurant and bar scene.  The diversity among restaurants is one of the best aspects of Trenton dining.  On any night of the week, hungry residents can find excellent dining options in a number of cuisines including Italian, Ecuadorian, Polish, Indian, Chinese, Mexican, Guatemalan, Spanish, Turkish, and American. Except for Amici Milano, Trenton's famous Chambersburg neighborhood has transitioned from a primarily Italian neighborhood to a Hispanic one with new and interesting restaurants, such as the Guatemalan El Mariachi Restaurante (reviewed in the New York Times). Trenton is still famous for its tomato pies, thin olive-oil-drizzled, tomato-rich pizzas. The Trenton area boasts the second oldest pizzeria in the country (Papa's Tomato Pies). Other tomato pie options include DeLorenzos and La Villa Pizza and Family Restaurant (a growing favorite among Mill Hillians).
Only slightly further away is more dining in Princeton, Lawrenceville, Morrisville, Pennsylvania just across the river, not to mention New Hope and Lambertville. Do you like big chain restaurants? Just about everything from Houlihan's Old to Chilis can be found on Route 1 between Trenton and New Brunswick.
Any discussion of eating is a highly subjective enterprise, and we encourage you to peruse the many options Trenton and the surrounding area offer before settling on favorite.  Our friends at Hidden Trenton are a great source for current food choices in the city. At their website, you can get their take on the best eats around and information about out-of-the-ordinary dining experiences that are sure to please.
Within walking distance of Mill Hill, favorites include Trenton Social, The Mill Hill Saloon , Settimo Cielo (delicious northern Italian food), Ila Mae's Restaurant (neo-soul food), Sunrise Luncheonette, Smoke House BBQ, East Front Cafe, The Big Easy (soul food), 1911 Studio B and Bistro  (bakery and Cajun food)and Checkers (burgers and a bar).