Mill Hill History, Early 20th Century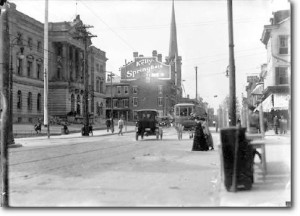 In the early 20th Century, Trenton was the economic, social, and political center of west-central New Jersey. Princeton was a small college town. Lawrence, Hamilton, Ewing, and surrounding suburbs were largely agrarian.
Trenton was an industrial center of international importance. The Roebling Steel works was in full swing, spinning the wire rope used to construct most of the major suspension bridges erected in the US, including the Golden Gate and George Washington Bridges. Trenton was also the principal centre of the pottery and ceramic industry in the United States, turning out products ranging from ceramic insulators, to bathroom fixtures, to fine china.
Waves of immigrants settled in Trenton, and in the Mill Hill. By the 1920 census, 52% of the city's population were foreign born or were born in the US to foreign-born parents. Approximately 12,000 (10%) were Jewish, and and many had settled in Mill Hill. It remained a significant Jewish neighborhood until well into the 1940s, when many Jews began moving out to the western wards.


The Labor Lyceum building on Mercer Street was built by the "Arbeiter Ring", a Jewish fraternal organization that was active in the labor movement, built in 1916. Their "AR" logo is still preserved in the marquee above the entrance and in the facade.
Broad Street was a fashionable shopping strip for Mercer County, with exclusive mens and women's clothing stores.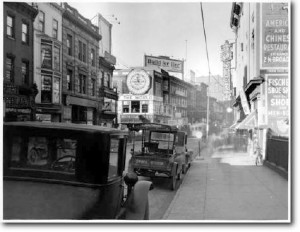 After the 1920s, and throughout the great depression, many Trenton manufacturing plants were purchased by out of town owners, as part of a national trend towards consolidation. This began the economic decline of Trenton, which was slowed by WWII and the post-war boom economies. Roebling Steel was one of the last of the great Trenton enterprises to be sold, in 1953, to the Colorado Fuel and Iron Co.
Slowly but surely in the post-WWII economy, American manufacturing in the NE US declined. New investment went out of town, often to low wage, non-unionized states; and most manufacturing ultimately moved overseas. With national policies that favored the development of suburbs over center-cities, Trenton's role as the social and retail center of the area also declined. Nationally, the "shopping mall" replaced "main street" as the predominant setting for retailing and entertainment, and Trenton suffered along with virtually every other center city in the NE US.