Mill Hill History, Decline & Renaissance
Given the economic decline of Trenton (which was experienced by virtually every industrial city in the northern U.S. during the period), and America's love affair with the suburban life-style, the decline of Mill Hill in the 1950s through the 1970s was inevitable.
It was made worse by some woeful urban planning decisions to build roads and parking lots that destroyed large swathes of Trenton's historic urban fabric (e.g.the Trenton Freeway, surface lots for state workers), cut off access to the Delaware (Rt 29), and much more. Here, Trenton's position as state capital worked against it, making money for misguided urban renewal schemes readily available.
Mill Hill transformed from a predominantly single-family, owner-occupied community, to a majority multi-family, renter population. Vacant properties increased from 3% in 1952 to 17% in 1970.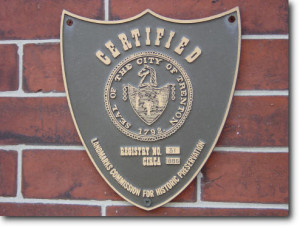 The turn-around began in the mid-1960s. The City of Trenton adopted a redevelopment plan based on the idea of converting Mill Hill into a latter-day "Georgetown". Instead of clearing and building new, the current historic fabric would be preserved. This established the basic framework that has supported Mill Hill's Renaissance to this day.
In a symbolic act that ended up carrying enormous practical significance, Trenton's Mayor Arthur J. Holland moved with his family to 138 Mercer Street, on February 28, 1964. This event was covered at the time on the front page of the NY Times, and in Life, Time, and Ebony Magazines. Holland paid $6,750 for his house, and invested an additional $15,000-20,000 in renovations.
Derided by some as a desperate political stunt, Holland lived in Mill Hill until 1987, when he sold the house for $90,000 and moved to Hiltonia.
Restoration of Mill Hill proceeded in waves. Initial restoration focused on the 100 blocks of Mercer and Jackson, and South Montgomery. Af first, real estate prices appreciated slowly. A core of original "urban homesteading" pioneers still live in Mill Hill who acquired their homes during this period, and lived in them while restoring them painstakingly, room by room. By 1967, the first Holiday House Tour took place. This became an annual event in the neighborhood: a major social event, a fundraiser for the OMHS, and an effective way to promote the neighborhood.
Prices appreciated rapidly during the real-estate boom of the 1980s. It was during this period that the Colony was built on the corner of Market and Mercer. In 1986, Passage Theatre took up residence in the Mill Hill Playhouse, which had been restored by the City of Trenton during the mid 1970s in the historic structure, a former Lutheran Church destroyed by fire.
When the real-estate bubble of the late 1980s collapsed into the savings and loan scandal, prices in Mill Hill collapsed as well.
Then a new second wave of urban pioneers began to trickle in, attracted by the lovely architecture and the well-organized, diverse community. For the first time, commercial developers, led by Atlantis Historic Properties, took up the challenge of restoring vacant structures, principally on the 200 blocks of Jackson, Mercer, and Clay. Property values increased rapidly again, starting in the mid-1990s, and have remained strong even as the real estate bubble of the new millenium has worked through a readjustment.
Today, only a handful of vacant properties remain in Mill Hill. Renovated historic structures, and historically sensitive new construction stand side by side. The neighborhood combines an exciting mix of long-time residents and new arrivals of diverse races, orientations, and professions.