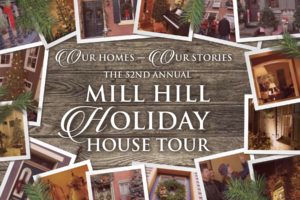 Now entering its 52nd consecutive year, the House Tour is Mill Hill's signature event and a Trenton tradition. This year's tour will take place from noon-5 p.m. on Saturday, December 1, 2018. About 15-20 homes and Churches in the neighborhood will swing open their doors and invite people to come in from the cold to take a look around. The tour begins at Artworks  located at 19 Everett Alley and South Stockton Street, Trenton.
Advance sale tickets are $15
(tickets are $20 at Artworks on the day of the tour).

Buy tickets on Paypal:
Advance-sale tickets are also available at these convenient locations:
Mill Hill Saloon
300 South Broad Street
Trenton, NJ

Trenton Social
449 South Broad Street
Trenton, NJ

Classics Books and Gifts
4 West Lafayette Street
Trenton, NJ
Shoppe 202
202 Farnsworth Ave.
Bordentown, NJ
Fedora Café
2633 Main St.
Lawrence Township, NJ
Labyrinth Books-Princeton
122 Nassau St.
Princeton, NJ
Cafe Antonio
107 East Trenton Ave
Morrisville, PA 19067
 Thanks to these merchants for supporting the House Tour and Mill Hill!
While the streetscape in Mill Hill presents a unified façade of row houses, inside you'll find that every property is stunningly unique. During the neighborhood's on-going restoration process, the interiors of many of Mill Hill's properties have developed into modern, sometimes sleek, often open, but always inspiring spaces: two story dining rooms, balconies overlooking open living rooms … In these 19th century houses, the juxtaposition of old and new molds seamlessly into one.
************************************************************************************
The tour is run and organized by the Old Mill Hill Society and the residents of Mill Hill. It has played an important role in the restoration of the neighborhood. Money raised by the tour funds historic preservation grants that assist homeowners in maintaining the landmark standards that have helped make the neighborhood what it is today.
The OMHS acknowledges the support of the City of Trenton, Department of Recreation, Natural Resources and Culture, Division of Culture.
Parking:
Free parking is available in the Artworks lot at the beginning of the tour.
Directions:
See the Artworks website for directions: http://artworkstrenton.com/location/
Accessibility:
You don't have to drive to Mill Hill. Public transport is easily accessible. The Trenton train station is only a short walk away as is the Riverline, which runs south toward Camden along the Delaware River.